Top Tangerine Credit Cards 2019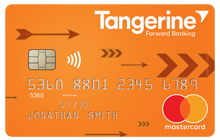 The Tangerine Money-Back Credit Card allows its holders to earn 0.5% money back on all purchases made with the card, with 2% money back being earned on purchases in two categories of the holder's choice! There is no limit on money back rewards.
During your first 30 days, transfer balances and pay only 1.95% interest on the transferred balance for the first 6 months (19.95% after that)!
CARD PROFILE
---
Latest Tangerine Credit Cards News