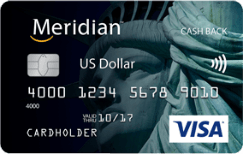 Meridian Visa US Dollar Card
Earn 1 cash reward point for every $1USD spent on all card purchases
No restrictions on purchases
Redeem at any time for cash back or merchandise
Pay no annual fee for the first year

Redeem your travel rewards the way you want. Options include: travel, merchandise, event tickets, and gift cards
Trip cancellation & Interruption Insurance: up to $2,000 coverage per person if the trip is cancelled prior to departure and unlimited coverage in the event of trip interruption after departure.

Baggage Insurance: coverage up to $1,000 per person against theft or damaged baggage and up to $500 against delayed baggage.

Common Carrier Accident Protection: up To $100,000 Accident Protection if you, your spouse or children are the victim of accident death, dismemberment while using public transportation (air, sea or ground).

24/7 Travel Assistance: anywhere in the world at any time 24/7 Travel Assistance is there to help. 

Auto Rental Collision/Loss Insurance: insurance covers you if your rental car is damaged or stolen for a period of up to 48 consecutive days when you charge the full cost of your car rental to your card.

Purchase Protection: provides coverage for 90 days from the purchase date in the event of loss, theft or damage when you to purchase eligible items. Maximum of $10,000 per item up to a maximum of $50,000 lifetime per account.

Extended Warranty: coverage automatically doubles the original manufacturer's warranty for up to a maximum of one additional year. Maximum of $10,000 per item up to a maximum of $50,000 lifetime per account.
You must be a Canadian resident.

You must be the of the age of majority in your province or territory of residence.

You must not have declared bankruptcy within the past 12 months.
Summary
The Meridian Visa US Dollar Card is your key to earning the privileges you deserve — whenever you visit and make purchases in the United States and countries that use the US dollar as their official currency. Enjoy no foreign transaction fees when you make purchases while you travel and shop in the US.
Eliminate conversion rates by receiving and paying your bill with a Meridian US chequing or savings account. Earn 1 reward point for every $1 spent on ALL card purchases with no restrictions.
Our Review
Meridian Visa US Dollar Card
The Meridian Visa US Dollar Card allows its holders to earn rewards points for every purchase made in USD, while also benefitting from no foreign transaction fees. Cardholders can earn 1 point per dollar spent in USD, with no restrictions on purchases, to be redeemed in any way, including cash back. This card comes at an annual fee of $65, but that is waived for the first year. A huge benefit of this card is the extensive array of insurance that it offers, including many types of travel insurance, purchase protection and extended warranty. This card is only really worth considering if you travel to the U.S. and make purchases there very frequently, as the savings are made on the lack of foreign transaction fees and earnings can only be made on purchases in USD. Even then, earnings are quite modest for a card with a $65 fee, so if you're looking for a card to help you save money while shopping online at U.S. based stores it might not be worth it, but the comprehensive travel insurance does make this card a more attractive offer for those who travel to the U.S. to make their purchases.
As per our rating system, this card scored 16/25 on rewards, 16/25 on interest rates and balance transfers, 16/25 on perks and insurance, and 22/25 on annual fees. Therefore, the total smart score of this card is 70/100.
Pros
Earn 1 cash reward point for every $1USD spent on all card purchases

No restrictions on purchases

Redeem at any time for cash back or merchandise

Pay no annual fee for the first year

Extensive travel insurance, including t

rip cancellation & Interruption Insurance, B

aggage Insurance, Auto Rental Collision/Loss Insurance and more.

Purchase Protection and Extended Warranty included.
Cons
$65 annual fee after the first year.

You can only earn points on purchases made in USD.

This card is not available in Quebec.
APPLY ONLINE